Quik-Latch Air Cleaner Minis
For decades, the preferred method of securing the air cleaner housing to a carburetor has been through the use of a wingnut. Removing and reinstalling the air cleaner housing can be a time consuming process by spinning the wingnut on and off the air cleaner stud. Why not replace this antiquated design with a specially designed mini latch? These pieces are a perfect finishing touch to custom build on a carbureted vehicle.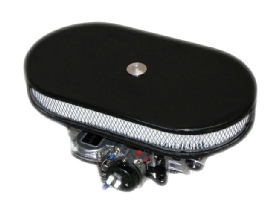 With a stud length of 4.10 inches (10.4 centimeters) and a thread pitch of 1/4" x 20, the air cleaner mini has enough reach to be successfully adapted to most carburetor air cleaner housings. Below are some pictures of completed installations of the Quik-Latch air cleaner minis. Each Quik-Latch mini Air Cleaner kit comes with one stud, one nut, and one latch assembly.
NO MORE WINGNUTS!
PUSH BUTTON LATCH FOR
EASY REMOVAL OF AIR
CLEANER ASSEMBLY.